COMPLETE REPAIR OF INTERIOR AND EXTERIOR CRACKS
WATER INFILTRATION AND MOLD STAINS
Your basement is humid and you've notice mildew stains in certain areas? It is possible that your home's foundation is cracked. It is important to act quickly in order to avoid problems linked to mold and serious structural damages.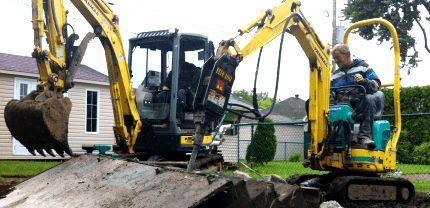 Buildings in Quebec suffer extreme weather conditions, and the ground on which your house is located undergoes successive frosts and thaws that can cause it to move. Although imperceptible to you, this movement will have damaged the foundation of your house. 
If your foundation is damaged (cracks, settling, bowed, leaning, etc.) Fissure ML Inc. offers you the necessary expertise to ensure complete repair. Our specialized work allows to:
Contact us for more information about our foundation repair service.
HOW TO REPAIR CONCRETE CRACKS?
Concrete cracks can be repaired following a few methods. These include: Epoxy injection, routing and sealing of cracks, concrete crack repair by stitching, prestressing steel, drilling and plugging method, gravity filling method, grouting method, overlay and surface treatments of cracks. Any kind of treatment has to be decided based on the examination of the crack and its source and type.
REPAIRING THE FOUNDATION CRACKS
There are three types of foundation cracks, vertical, horizontal and diagonal. Its repair depends on the kind of crack, the width of the crack and the freshness of the crack. When a crack is a hairline crack, you don't need to sweat it out, just let it grow. Tracking the growth of the crack will help foundation repair experts to decide the procedure of repair to be followed. Usually a diagonal or vertical crack is the result of concrete settling and is easy to repair. But the horizontal crack is a serious issue which needs to be looked into by an expert.